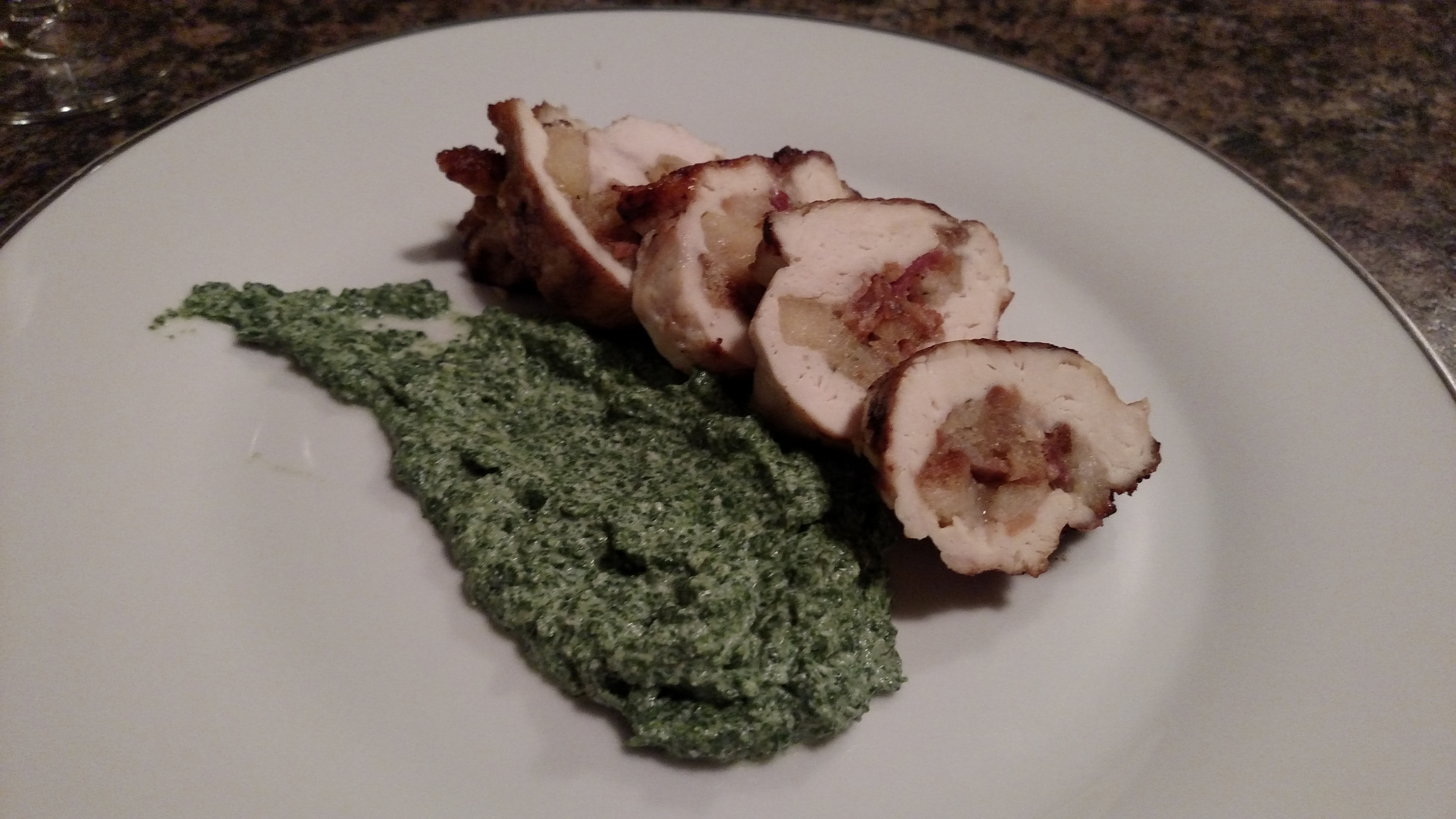 Chicken Breasts Stuffed with Apple, Bacon, and Gouda
Serves 4
Approximately 350 calories
Ingredients:
3 medium red delicious apples, peeled, cored, and diced
1/4 lb. shredded gouda
6 slices of bacon, cubed
1/2 cup of seasoned bread crumbs
1 lb. boneless chicken breasts, halved widthwise and pounded into 1/4 inch think
1/4 cup white wine vinegar
2 T olive oil
Procedure:
Fry bacon in a pan until browned. While the bacon is frying, mix together the bread crumbs and gouda then set aside. Add the apple to the bacon and cook for 2 to 3 minutes. Add bacon and apple to the bread crumb and cheese mixture and mix together thoroughly. Spoon mixture onto the pounded chicken breasts. Roll chicken in jelly roll fashion and secure with toothpicks. In the same pan used to fry the bacon, sear rolled chicken on both sides about 3 to 4 minutes per side on medium heat. Add white wine vinegar to the pan and lower the temperature to a simmer and let chicken cook for 15 to 20 minutes until chicken is cooked thoroughly. Remove chicken and let chicken rest for 10 minutes. Remove toothpicks and slice chicken with a sharp knife.
Notes:
I used a local made gouda cheese made from goat milk so  whatever is your preference.
I also used about stuffing mix instead of seasoned bread crumbs which added just a little extra flavor.
Served it with a white wine and a spinach puree. Hope you enjoy! Please let me know what you liked or didn't like.
Related articles across the web